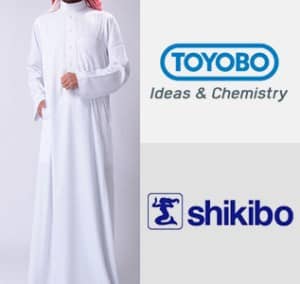 Textile Division
We are dealing in one of the finest KANDURA fabrics imported from JAPAN with more than 12 years in the Textile business in UAE, we are committed to supply quality fabrics to our customers.
Though we are equally aggressive in the competitive market in comparison to the various other players in the market, our aim is to always strive to achieve customer satisfaction which in deed has shown and helped us to establish a very wide range of loyal customers across UAE/GCC.
TOYOBO was founded as a textile company in 1882, one of the major textile maker in Japan and has expanded the textile business in Japan and abroad. "Development-oriented" refers to the creation of new business models and new markets with Toyobo's highly unique technology to develop functional materials.
SHIKIBO Has a history of over 100 years since its founding in 1892 as a textile maker, as result of continuous challenges and growth in the history, the company has grown to become one of the top class general material makers.